We are stocked to the brim with smoking woods and chips at the moment,  here's the low down on each of the products and a couple of tips and recipes thrown in for cooking with these woods.
This Australian Grown wood is sourced direct from farms in the Granite Belt the premier fruit growing region in South East Queensland. The company prides themselves on being BBQ veterans and specialising in the range of orchard woods to create a holy smoked flavour.  To minimise wastage, even small branches are off-cuts, hence the "ugly chips".
The wood is stored as logs and air dried inside for a minimum of a year.  The logs are only cut once an order has been placed by a supplier.
We have 2 types, Wood Chunks ($8 for a 1kg bag), and Smoking Chips ($11 for a 1kg bag, 3 flavours Apple, Cherry and Pecan).
The wood chunks come in a variety of flavours including:
Oak
Olive
Pecan
Cherry
Apple
Apricot
Peach
Plum
So when would you use the wood chips over the chunks?  Paul says if you aren't cooking something for as long, like chicken or a steak then use the chips to infuse a smoky flavour.  Reason being is heat, the chips will emit a higher heat than the chunks, so chunks are better for low and slow cooking.
See below for a guide from Australian Beef about the flavours provided from different variety of wood and chips, as does this guide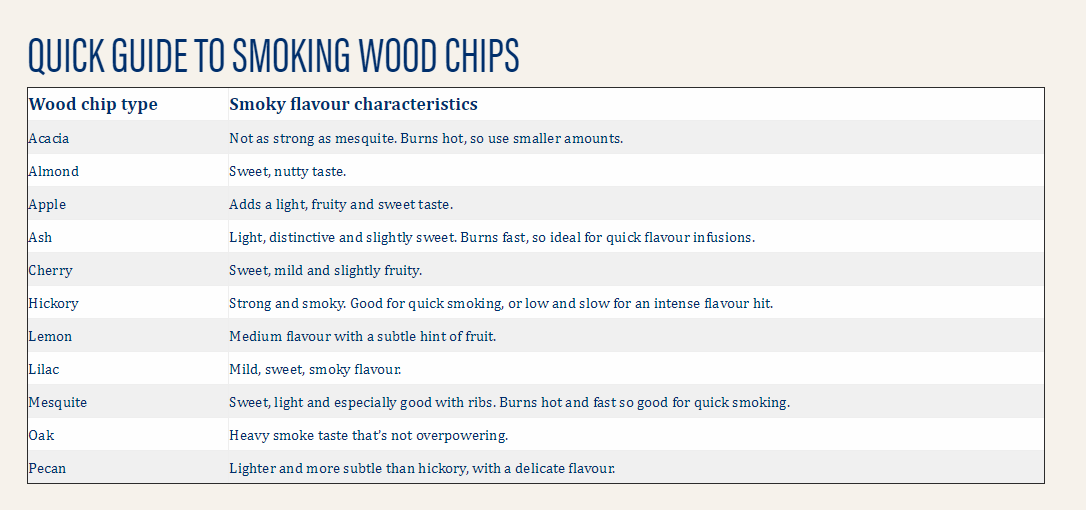 We still also have some stock of Spinifex Country BBQ Charcoal available in-store as well ($22.00 for 20L), and charcoal is available to shop online too.
Australian Beef have a great resource page for smoking Beef, including ways to cook using smoking methods even using a wok, stovetop or oven, even if you don't have a BBQ smoker – Take a look here. 
Try these Texas Style Smoked Beef Ribs, cooked in a wok