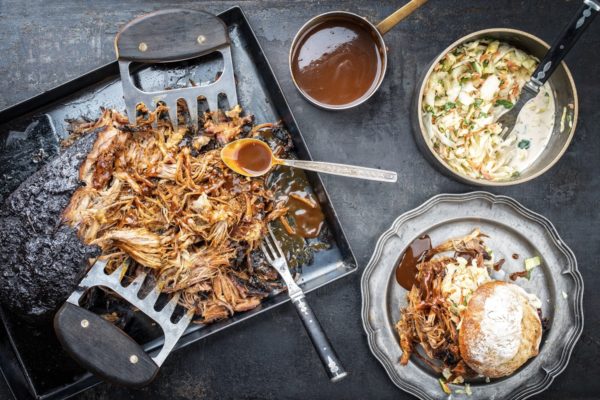 Products to use
There's a few different products we have that you can use to create the perfect pulled pork slider.  If you are cooking in an oven, you can keep it as simple as using a BBQ Sauce and adding some liquid smoke (we sell Stubbs Liquid Smoke – $5.50) to create that smoky flavour that you would otherwise get when cooking on a BBQ Smoker.
If using a BBQ Smoker the woods that work well with pork are any fruit woods or Pecan.  Take a look here at our guide to what we have in-stock at the moment
Prepare the Meat
The Boston Butt is a great cut of pork from the shoulder and neck and including the bone.  In the US, butchers tended to take less prized cuts of pork like hams and shoulders and pack them into barrels for storage and transport, known as a butt. This particular shoulder cut became known as a Boston speciality, and hence it became the "Boston butt". You could also use a Boneless Pork Shoulder or a Pork Neck for a similar result.
If using a rub, simply season the meat all over.  Paul suggests the following products with the boston butt depending on the depth of flavour you are after:
Boodua Creek Rubs Carolina Gold or

Sweet Tennessee Bourbon

work well for a simple BBQ flavour or in the past Paul has also used Heavenly Hell Sweet Succulent Swine (more stock coming soon)
For something with a bit more bite –

Churrasco Rub from Wyld Smoke

   which brings with it visions of South American BBQ, hot coals and aromas of charred meat. The rub offers a blend of heat, salt and smoky spices, with coffee adding a unique depth of flavour.
Prepare the BBQ
As we have recently received in-stock a new BBQ Charcoal, we decided to showcase cooking on a Weber Kettle BBQ.
Firstly Paul poured the coals into the chimney, and were left to heat up for approx 25-30 mins.  Coals should be white hot when ready.
As cooking over a slower period of time, Paul then poured into a charcoal basket and added more coals on top, which will heat over time and produce the longer cooking time.
Not shown in the video but you should also add approx 3-4 chunks of wood, which will smoulder and produce smoke for flavour.  These can be added under the wire rack as well. Try any fruit flavoured wood to suit with Pork.
How to cook
After seasoning liberally with your chosen rub, set the meat into the BBQ over an indirect heat source.
After approx 3 – 4 hours, or until an internal temp of about 75 degrees, remove the meat and then add brown sugar and unsalted butter to create a caramelised crust on the meat
Then wrap in foil and cooked for a further 1 – 1.5 hours or until an internal temp of approx 95 – 105 degrees.
Enjoy with soft damper rolls and coleslaw.  You can also add a dash of Heavenly Hell BBQ Sauce, try Scorched Earth
Of course you can cook the Boston Butt in the oven or a slow cooker – check out these recipes for a quick guide